The latest version of Amazon's Fire HD 10 has cemented itself as the best value tablet due to its affordability and great quality. Among other 10-inch tablets in the market, Fire HD 10 proves to be a strong contender for performance and web content consumption. It comes with wide access to major services and apps and a powerful voice assistant at the same time.
In this article, we will be reviewing Fire HD 10's price, feature set, specs, as well as some of its pros and cons to determine if it is one of the most genuine tech bargains out there thus far.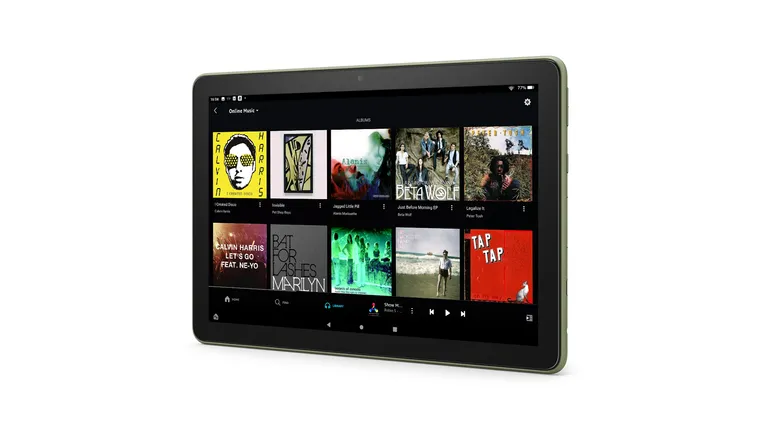 Amazon Fire HD 10: What You Need to Know
Amazon's Fire tablets have always been centered around Amazon content consumption. Before, they initially started as "Kindle Fire," whose intended purpose was for streaming videos and reading. However, Amazon has decided to widen its array of options, thus the new and improved Fire HD 10 tablet.
While it's true that Amazon's Fire HD tablets don't have a major say when it comes to tremendous horsepower or luxury, it remains one of the most sought options when people seek a quality tablet at an affordable price. 
With its upgraded version, the 2021 Amazon Fire HD 10 packs relatively great performance for your general use.
Price and Design
The Fire HD 10 and Fire HD 10 plus cost about $150 and $180 respectively for the variants that have 32GB storage.
Meanwhile, the Fire HD models containing 64GB storage cost between $190 and $220. Despite the cheap price, the Amazon Fire HD 10 promises you plenty enough to go around.
The tablet's main material is matte plastic and can be up for grabs in the colors green, black, pink, or blue. With this design, you can't really expect it to rival the iPad — but for a cheap tablet, it's perfectly fine.
The latest model is significantly lighter and slimmer compared to its predecessor since it measures approximately nine by six inches and weighs about 16.4 ounces.
It's also equipped with dual stereo speakers at the top, a microSD memory card slot, as well as a USB-c port ideal for transferring files and charging. The battery, however, is not removable.
The basic model contains ads on the lock screen. However, you can easily choose to upgrade it instantly by either paying an extra $40 for another 32GB storage or an additional $15 to get rid of the ads permanently.
There are also fun "productivity bundles" that you can purchase for each tablet, including a 12 month Microsoft 365 subscription for $60 and a new detachable keyboard case.
While going for these extra payments can break the $200 mark, its features remain pretty commendable for its base price of $150. This makes the low-cost Amazon Fire HD 10 a deserving league of its own in many ways.
Key features and performance
In terms of features, there isn't much of a difference. However, its audio panache is impressive relative to other budget tablets.
Its stereo speakers sound crisp and clear with just the right amount of volume, bass, and a hint of tinniness at its high end.
On that note, you probably don't want to expect too much in terms of camera specs. This best tablet bargain only possesses a 2MP selfie snapper and a 5MP rear-facing camera.
Also, it has a 720p maximum video resolution as well, which isn't anything particularly special. The quality doesn't have detail and contains a lot of noise.
In terms of display, it has a resolution of 1,920 x 1,200 alongside a 224-pixel density. Compared to its previous version, its screen brightness has been improved this year as well, with a luminance of 498cd/m2 compared to the 298cs/m2 last year.
More than that, its screen is also excellent in displaying vibrant, striking colors. Still, you must keep in mind that this isn't HDR-certified, so you might still be better off watching high-definition movies on your television instead.
Performance and Battery life
The Amazon Fire HD 2021 version is powered with Mediatek's Helio.P60T, accounting for a 50% improved web browsing performance compared to its other versions. 
Its 3GB of RAM also makes for a more fluid experience when switching apps, especially when dealing with productivity applications like Microsoft Office.
Furthermore, its split-screen feature makes it convenient for when you want to run two apps at once.
 The Amazon Fire HD 10's P60T power offers enough for you to display Kindle books, play games, videos, or audiobooks, and make your necessary Zoom calls.
Battery life is also great since it lasts for approximately 12 hours and 48 minutes of video playback over WiFi. Its battery also reached full charge only within three and a half hours.
Conclusion
From this review, it's quite conclusive that the Amazon Fire HD 10 may probably be Amazon's best tablet. 
While it's true that this tablet is nowhere near a sixth-gen iPad, its low-cost price already provides you with the most features and power that you can expect from a budget tablet.