Gone are the days of tangled and messy wires millennium are obsessed with minimum and, less is the new more. Charging docks for your Apple devices helps you the decipher the problem associated with tangled charging chords. The best charging docks for Apple on the list consists of charging cable or an integrated cable management system.
Without exaggerating further, I would like you to check out the given below list featuring the best charging docks for Apple device owners. These docks feature wired, and wireless charging options for your convenience and are compatible with all Apple products.
This is a smart metal pedestal that's available in black, silver, and white. This stand docks your device at the bottom, to support any apple device (except for the iPad Pro 12.9-inch).
There a machined dial behind the two metal supports to hold your device and is flexible for adjustments according to your requirement.
It provides enough room for all the other ports, controls, and speakers to support the complete functionality of the device without any obstruction. The basic version isn't equipped with an Apple charging cable, but an additional 20$ gets you the deluxe version with both lightning and micro USB cables.
This is one of the smart devices on this list, which will work with any Apple device between 4 and 10 inches. The stand is made of aluminum, equipped with rubber pads, giving an extra-strong grip to the base.
There is a button provided on one of the sides, which helps you to adjust the stand in nine different angles. It is extremely portable, flexible, and light-weight, which means it can be installed at any place of your choice. The stand comes in either silver or black.
This dock comes with an elegant and plain design with a weighted silicon base, available in black slate, dark blue, or a beige stone color.
An angled piece of aluminum slots into the base to support your iPhone at an angle, which is available in gray slate, gold, and rose gold.
There are adapters in the base, making the dock to accommodate your iPhone either naked or with a slim case on. It does not come with a charging cable and supports iPhone 5 along with iPad 4 or their successive versions.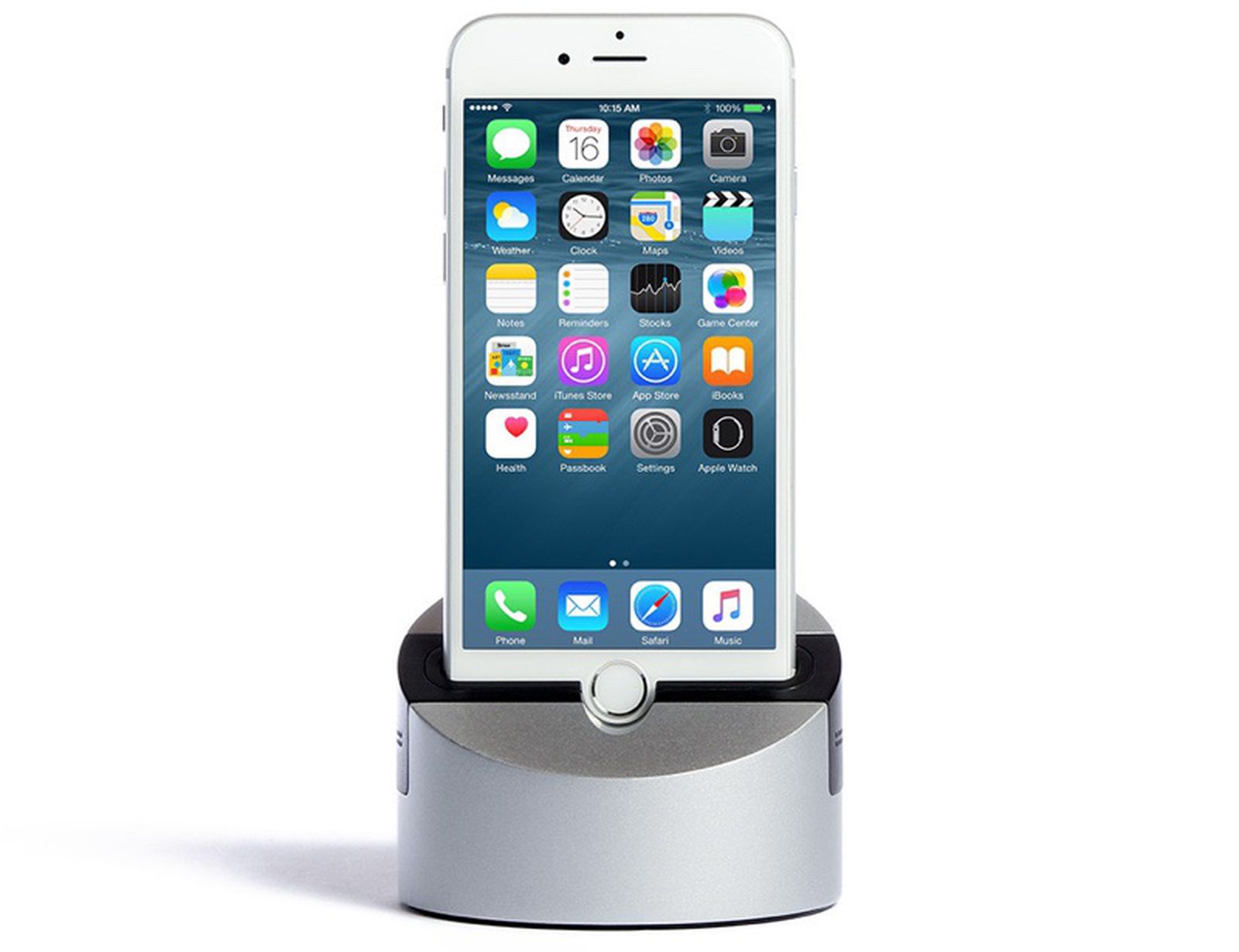 An extremely remarkable feature that this dock possesses is that it does not shift or tilt whenever you slide your iPhone in and out. It has been made with a solid zinc alloy with a diameter of 3.5 inches and weighs just 2.5 pounds.
It is equipped with a black insert to accommodate all Apple devices, and it is MFI certified. Another remarkable feature in this dock is that the insert can be upgraded according to the design changes of every new Apple device. It is also equipped with a USB port for charging and syncing, and also an audio port to plug in the speakers.
5. Carved Skate Dock
These exclusive, colored striped docks are handcrafted in Indiana using recycled skateboards. It is compatible with every iPhone later than iPhone 3, and spacious enough to contain your iPhone along with a slim case.
There are slots provided in the bottom to plug in both the charging and audio cable. Additionally, it has a slot for the speaker, and the open side of the dock amplifies the sound coming from the speakers. The metal plate in the base makes it a sturdy phone carrying device.
This dock designed to allocate space for both Apple Watch and iPhone together. It contains a magnetic charging module to recharge your Apple Watch and lightning connector built inside the dock to recharge your phone.
Both can be recharged simultaneously through a single wall outlet. It consists of a mechanical dial to adjust the viewing angle. It has a weighted base, which is sturdy enough to stay immune to the changes in the movement. It comes with a simple and elegant design to shelter any iPhone, including its case.
7. Pad & Quill Timber Catchall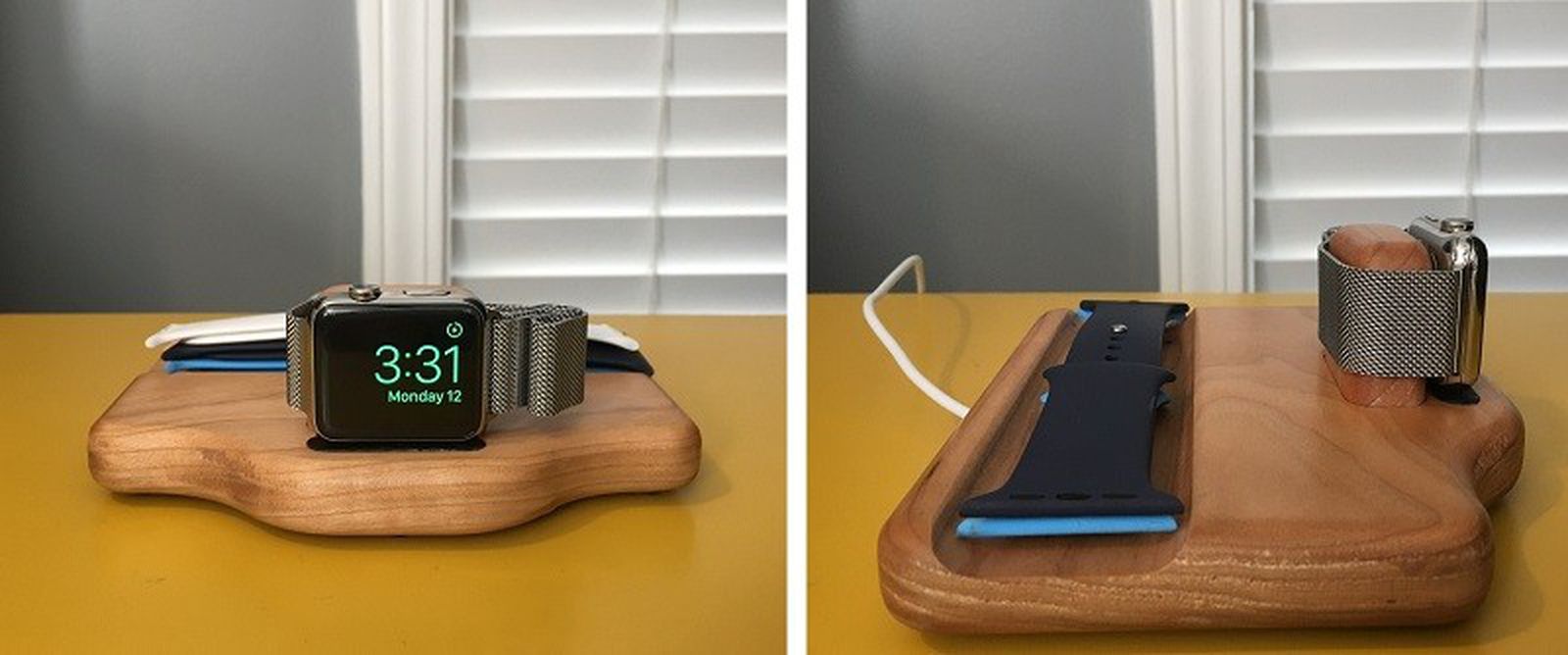 This charging dock looks like a simple bedside stand but has the capacity to accommodate both the iWatch and an iPhone. It is made up of classic hardwood available in the choice of Sapele, Cherry, or Walnut.
The lightning cable to charge the phone Apple Watches charging magnet can be run through the same hole. It comes with a nice and smooth finish.  The charging dock also provides extra space to shelter coins and keys.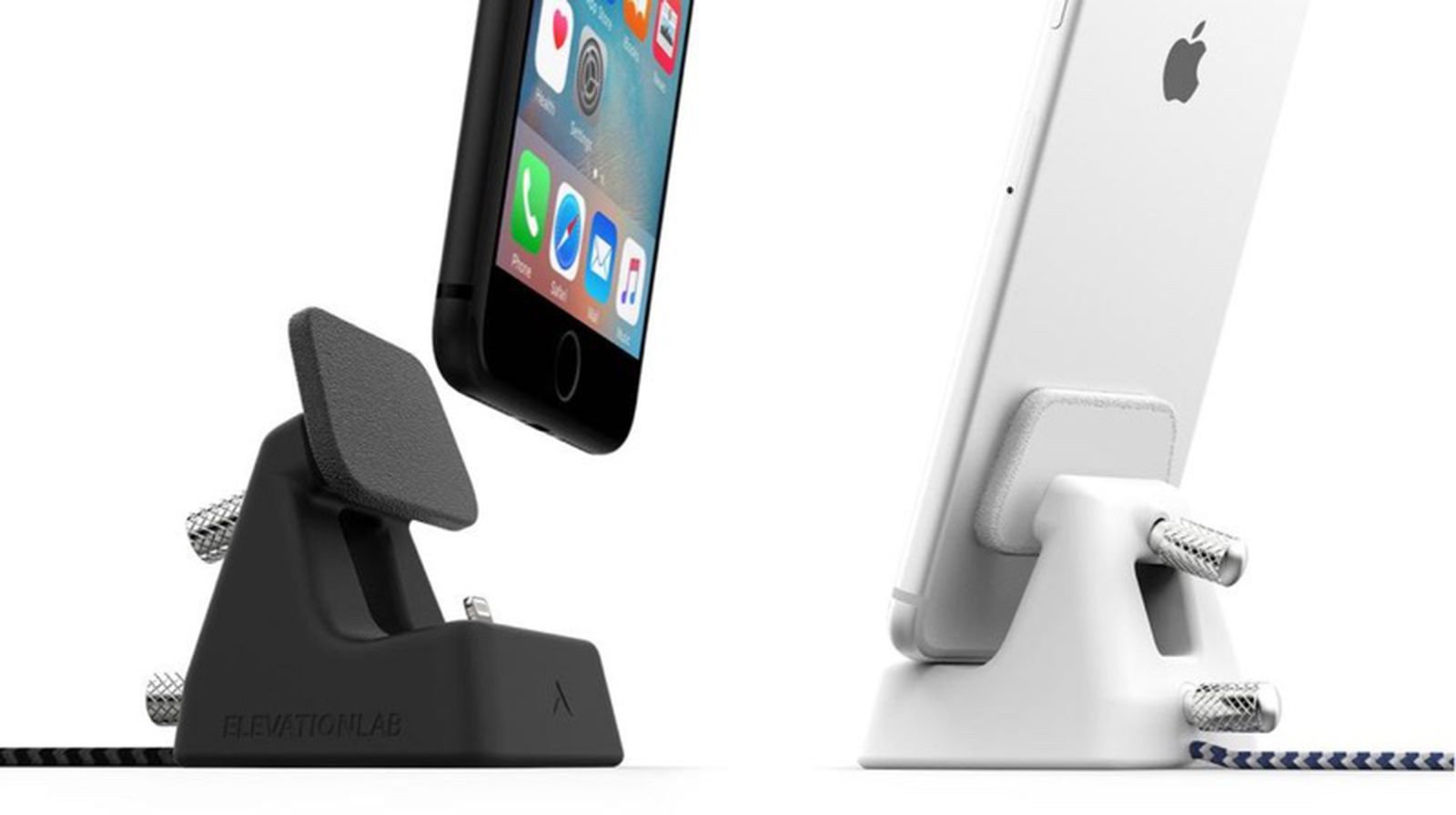 If simple and a classy look is your primary choice, then this charging dock should be on the top of your list. It's heavy, tight-gripped, and easy to use.
The groove is big enough to accommodate slimmer cases, but it does not come with a charging cable. Another interesting to add to your design choices is that it comes in either silver steel or walnut or black.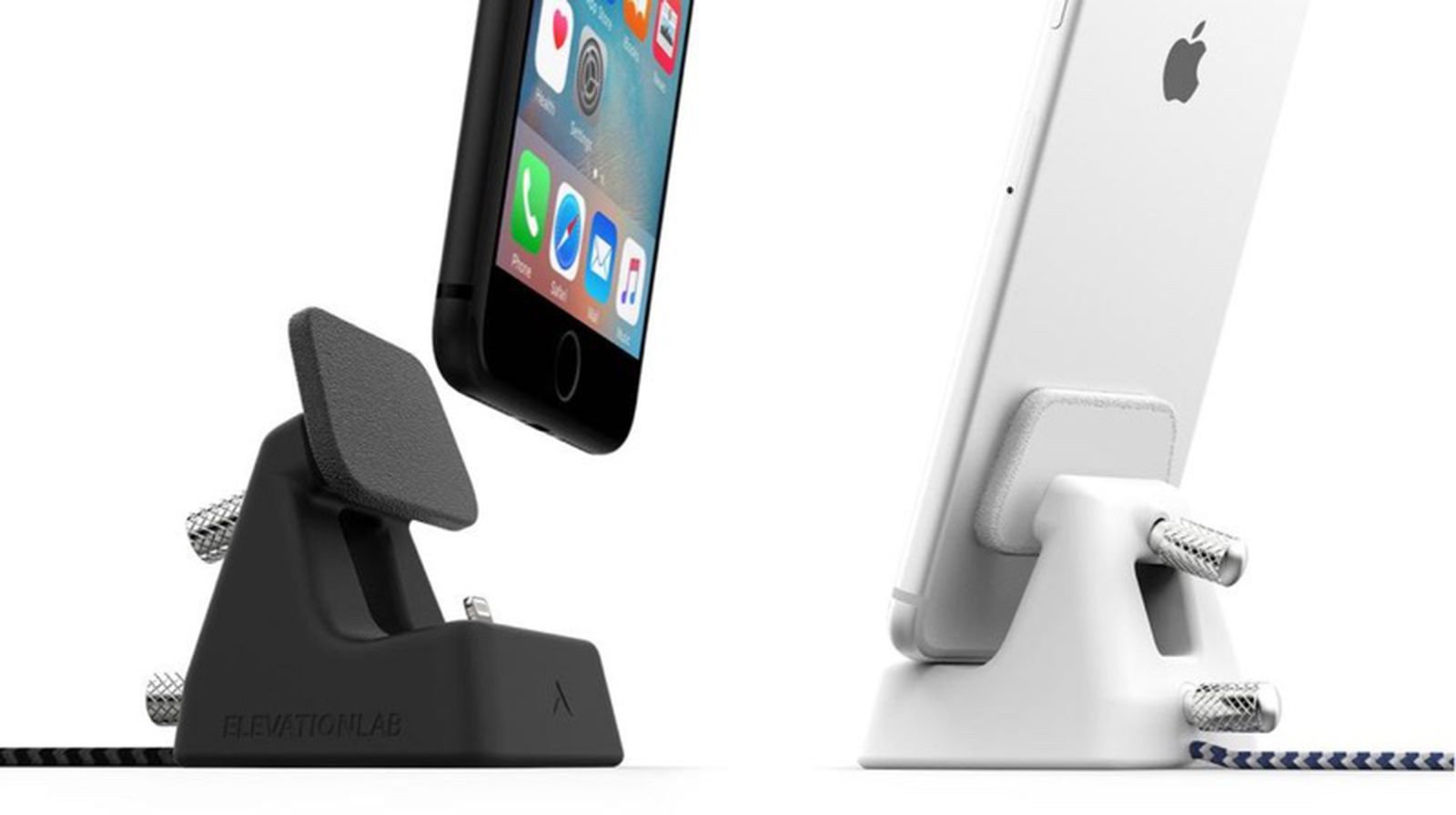 Modifying every drawback from its previous model, Elevation Lab has launched its fourth generation iPhone dock, claiming it to be the best. For a cheaper price of 30$, it comes with an extremely sophisticated design.
This dock is made of medical-grade silicone, zinc inserts provide some weight, and steel knobs enable you to adjust the viewing angle easily. This dock is available in both black or white, has a Nano-suction pad to support its base from sliding and comes with a cable too.
This iPhone stand can accommodate any phone in both landscape and portrait modes, which makes it a standalone piece among most of the charging docks.
It has a cradle with two arms, along with a couple of pads to protect your iPhone from scraping the metal. There's a vent on the back for cable management.
Though it is not sturdy enough and not adjustable, it comes with soft cushion providing the necessary grip manufactured at a comfortable viewing angle. It fits not only you but also the case attached to it, and comes in black, silver, grey, champagne, and rose gold.
Coming at a lower price and in a tripod design, it can support you in both the landscape or portrait view. It's ideal for photography, hands-free reading, or watching movies.
It is extremely compact, portable, and can be adjusted easily in your pocket or slot of your bag. Additionally, it comes with a lightning port, keyring attachment, and also serves as a bottle opener. It is a great accessory for travel enthusiasts.
12. Elevation Dock 3
Equipped with a similar aluminum texture as Apples MacBooks, the Elevation Dock 3 is an incredible option, and it's designed to fit the iPhone6 or later.
The silicon pads in it cushion your iPhone exquisitely, with an adjustable rear side to accommodate your phone, including your case.
The Nano pads in the bottom are designed to attach to your desk so that you can use it hands-free. It comes with a lightning connector and is also available in red, black, blue, and silver anodized aluminum.
If you want a rock-solid, stationary dock, then there can be no other choice than this docking station from Rockform is crafted from solid aluminum and weighs more than 3 pounds.
It consists of an insert to adjust the fit so that it can accommodate your phone with or without the case. Additionally, it has amazing features like speaker ports, hexagonal pad on the bottom to protect the surface at the bottom. It is available in silver, black, orange or grey.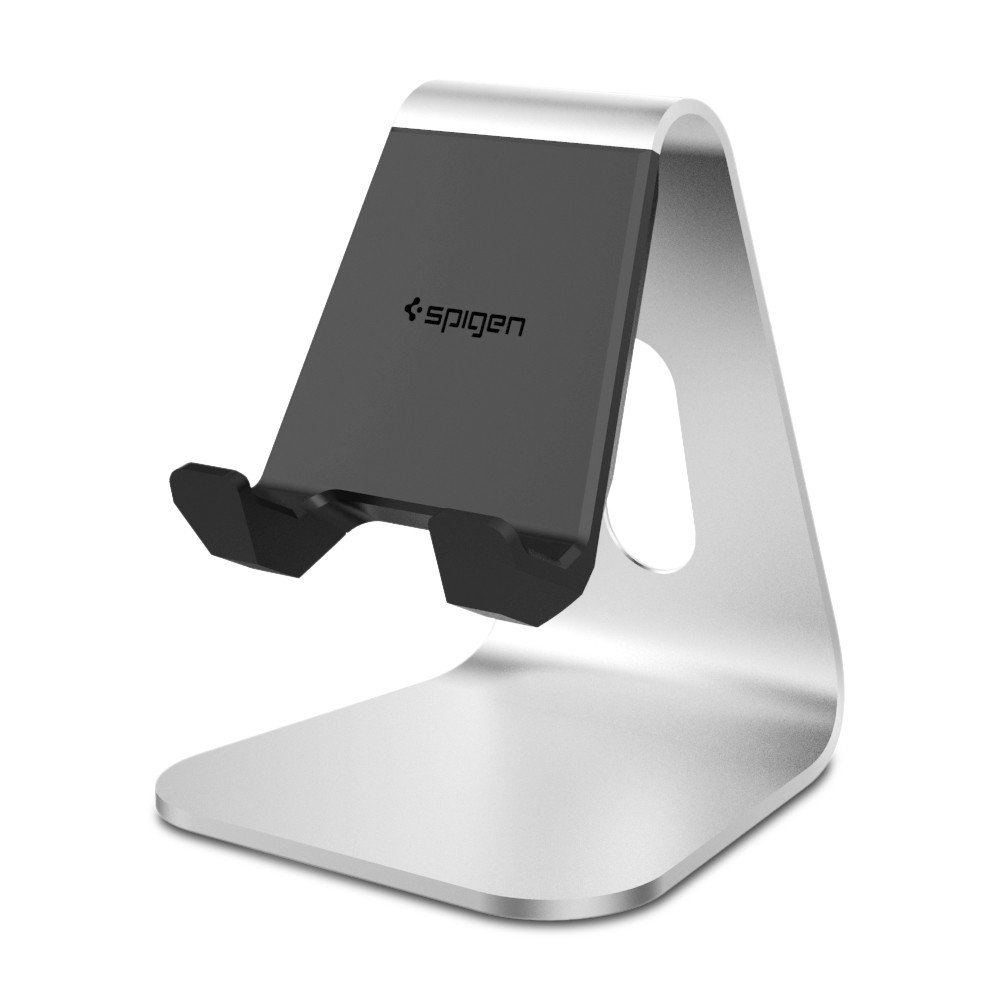 To the people who love aluminum textured accessories, this is one among the coziest options available in the market, also comes at a cheaper price.
It has a soft, black TPU cradle allowing you to use it in both landscape and portrait orientations. The base contains gel corners providing a firm grip. It's a simple stand and does not come with a charging cable.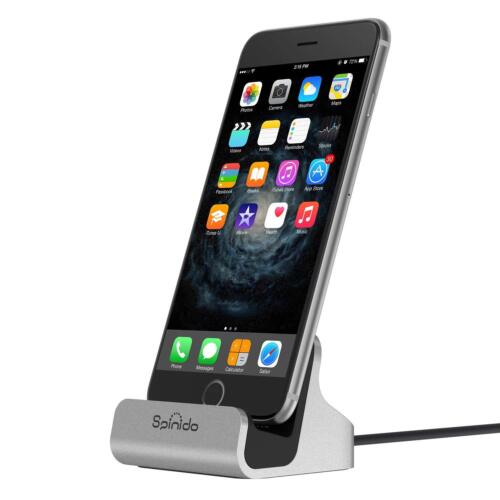 It is the cheapest available dock and the most basic version. It comes bundled with a built-in, four-foot lightning cable. It is designed to work with iphone5 or later devices and has enough room to accommodate your phone along with its case. It's made of aluminum and is available in blue, green, pink, red, and purple versions.
It is the most popular and trending charging station available in the market, as it comes with a 3000mAh battery. It comes with a fundamental and practical design.
It flips open to reveal a lightning plug which can be plugged into your iPhone. It features four tiny LEDs indicating the battery level. Theres also support for landscape orientation if you pull the lightning cable out.
The list consists of the best  Best iPhone Docks; those docks are listed seeing the user rating by various users across the globe. You can share your opinion regarding the usage of these best Apple docks and let us know about more APPLE docks that can be included in the list to upgrade it. Meanwhile, I hope Our list will be helpful for the potential buyers who are willing to select the  Best iPhone Docks for their iPhone.